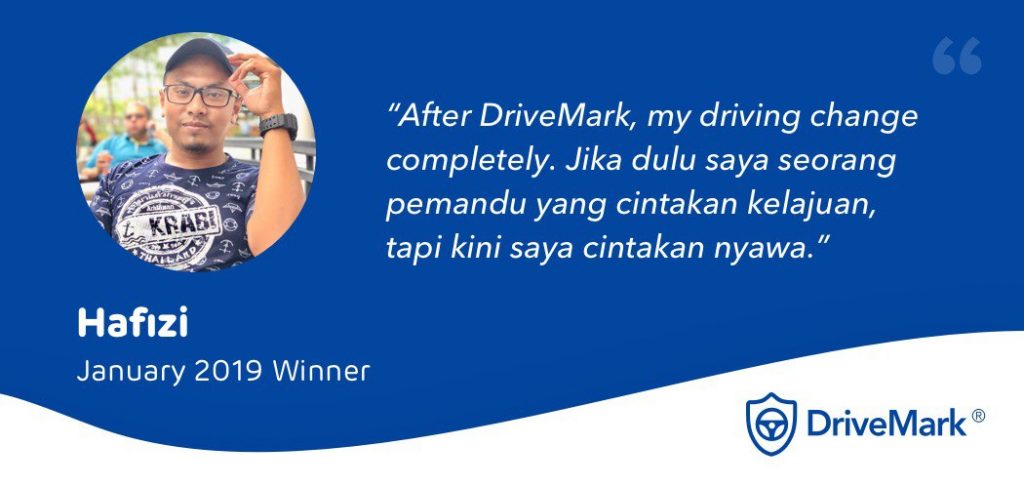 Muhammad Hafizi
What does it take to be a hero?
A hero is willing to make small changes that will make the future better. A hero won't be driving his Batmobile recklessly and langgar itu ini. This is because they appreciate the value of life.
Thousands of people have joined our #DriveSaferLah challenges. If you are part of this community, then you are already our hero. 🎉 If you haven't joined, come la see our latest #DriveSaferLah challenge. Best wor.
Each month, we have ah-may-zing human beings who have driven extra safe and won our challenges.This special post is dedicated to highlight our December top driver, whose his selflessness makes everybody on the road selamat sejahtera. This is his story:
After DriveMark, my driving change completely. Jika dulu saya seorang pemandu yang cintakan kelajuan, tapi kini saya cintakan nyawa.
Selesa gunakan app ni and such a sweet victory when I got rewarded with the XiaoMi scooter for driving safe! Marilah kita sama2 berubah menjadi pemandu yg berhemah. Rugi kalau tak drive dgn selamat, sebab tak dapat lah reward2 yg menarik daripada DriveMark!
Saya selalu ajak kawan untuk guna drivemark ni. Sambil memandu sambil ada chance menang hadiah lumayan. Saya memang nak support app DriveMark ni to #trending widely in the world.
---