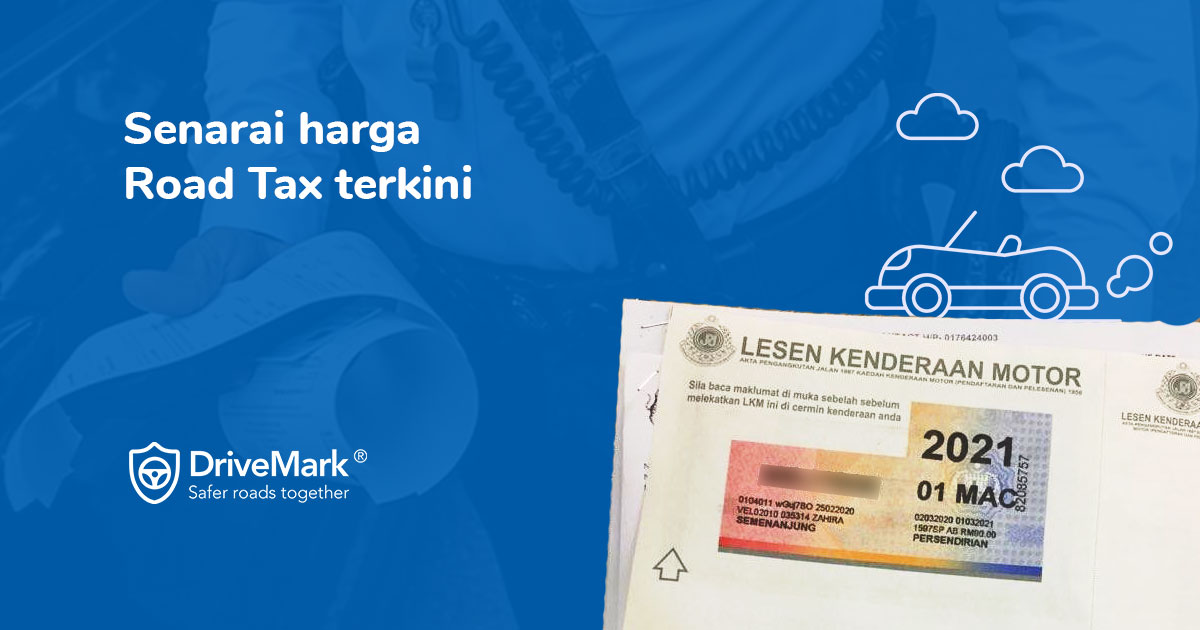 Is it the time to renew your vehicle roadtax and car insurance? Annual car Roadtax price in Malaysia is calculated based on the components below:
Engine displacement / Cubic Capacity / Liter.

Bigger engines pays more tax
The price increase is because Malaysia uses an outdated tax system. In our current roadtax calculation, assumption is taken that bigger engines/displacement emits more pollution. Hence, big car owners have to pay more for the privilege of driving more polluting cars.

Location (Peninsular Malaysia or West Malaysia or Labuan/Langkawi/Pangkor):

West Malaysia (Sabah & Sarawak) have cheaper roadtax to compensate with the quality of road that is not on par with Peninsular Malaysia.
Due to poor road quality and geographical features, people in Sabah and Sarawak prefer to own four-whell drive vehicles with bigger engine displacements to help navigate its challenging terrain.
Hence JPJ/Road Transport Department compensated the poor road quality with cheaper road tax.
As for Labuan, Langkawi and Pangkor, cars with engine displacement smaller than 1000cc pay a fixed fee of RM20. If your car is bigger than 1000cc, you will be paying on 50% (half) of what people in Peninsular Malaysia.

Type of use (Private or Company)
Type of vehicle (Saloon or Non Saloon)

Saloon: Sedan / Hatchback / Coupe / Wagon / Convertible
Non-Saloon: MPV / SUV / Pick-ups / Commercial
To ease you, we have calculated and tabulated the Road Tax price for popular vehicle models in Malaysia, separated by Peninsular (Semenanjung Malaysia) and Sabah & Sarawak. Calculation is based on the Roadtax Calculator by our friends at CarBase.
Please refer to the Road Tax table below, separated by car manufacturers.
This is a long article. We recommend you to use the Search feature on your phone/browser to search for specific car model/brand, or Click on the link below to quickly jump to the Road Tax price list for specific manufacturers.
Road tax Price for Mercedes-Benz
---
Roadtax Price for Perodua (2020)
| Car Model | Cubic-capacity | Semenanjung Malaysia | Sabah & Sarawak |
| --- | --- | --- | --- |
| Perodua Alza 1.5 | 1495cc | RM100 | RM50 |
| Perodua Aruz 1.5 | 1496cc | RM100 | RM50 |
| Perodua Axia 1.0 | 998cc | RM20 | RM20 |
| Perodua Bezza 1.0 | 998cc | RM20 | RM20 |
| Perodua Bezza 1.3 | 1300cc | RM70 | RM56 |
| Perodua Myvi 1.3 | 1329cc | RM70 | RM56 |
| Perodua Myvi 1.5 | 1496cc | RM90 | RM56 |
| Perodua Kancil | 850cc | RM20 | RM20 |
| Perodua Kelisa | 1000cc | RM20 | RM20 |
| Perodua Kembara 1.3 | 1300cc | RM100 | RM56 |
| Perodua Rusa 1.6 | 1590cc | RM120 | RM60 |
| Perodua Rusa 1.3 | 1296cc | RM100 | RM50 |
| Perodua Viva 1.0 | 989cc | RM20 | RM20 |
| Perodua Viva 660 | 659cc | RM20 | RM20 |

Roadtax Price for Proton (2020)
| Car Model | Cubic-capacity | Semenanjung Malaysia | Sabah & Sarawak |
| --- | --- | --- | --- |
| Proton Ertiga 1.4 | 1373cc | RM100 | RM50 |
| Proton Exora 1.6 | 1561cc | RM100 | RM50 |
| Proton Gen2 1.3 | 1332cc | RM70 | RM56 |
| Proton Gen2 1.6 | 1597cc | RM90 | RM72 |
| Proton Iswara 1.3 | 1298cc | RM70 | RM56 |
| Proton Iswara 1.5 | 1468cc | RM90 | RM72 |
| Proton Perdana 2.0 | 1997cc | RM378.50 | RM237.25 |
| Proton Perdana 2.4 | 2354cc | RM734 | RM451 |
| Proton Persona 1.6 | 1597cc | RM90 | RM56 |
| Proton Preve 1.6 | 1561cc | RM90 | RM56 |
| Proton Saga 1.3 | 1332cc | RM70 | RM56 |
| Proton Saga 1.6 | 1597cc | RM90 | RM56 |
| Proton Satria Neo 1.6 | 1597cc | RM90 | RM56 |
| Proton Satria GTi 1.8 | 1834cc | RM279 | RM232.50 |
| Proton Savvy 1.2 | 1149cc | RM55 | RM44 |
| Proton Suprima 1.6 | 1561cc | RM90 | RM56 |
| Proton Inspira 1.8 | 1798cc | RM279.20 | RM223.36 |
| Proton Inspira 2.0 | 1998cc | RM379 | RM273.50 |
| Proton Iriz 1.3 | 1332cc | RM70 | RM56 |
| Proton Iriz 1.6 | 1596cc | RM90 | RM56 |
| Proton X70 1.8 | 1799cc | RM359.70 | RM198.83 |
| Proton Waja 1.6 | 1597cc | RM90 | RM56 |
| Proton Waja 1.8 | 1783cc | RM273.20 | RM218.56 |
| Proton Wira 1.3 | 1298cc | RM70 | RM56 |
| Proton Wira 1.5 | 1468cc | RM90 | RM56 |
| Proton Wira 1.8 | 1834cc | RM297 | RM232.50 |
Roadtax Price for Honda (2020)
| Car Model | Cubic-capacity | Semenanjung Malaysia | Sabah & Sarawak |
| --- | --- | --- | --- |
| Honda Accord 1.5 | 1498cc | RM90 | RM56 |
| Honda Accord 2.0 | 1997cc | RM378.50 | RM273.25 |
| Honda Accord 2.4 | 2356cc | RM736 | RM452 |
| Honda BR-V 1.5 | 1497cc | RM100 | RM50 |
| Honda City 1.5 | 1497cc | RM90 | RM56 |
| Honda Civic 1.3 | 1339cc | RM70 | RM56 |
| Honda Civic 1.5 | 1498cc | RM90 | RM56 |
| Honda Civic 1.7 | 1668cc | RM227.20 | RM181.76 |
| Honda Civic 1.8 | 1799cc | RM279.60 | RM223.68 |
| Honda Civic 2.0 | 1998cc | RM379 | RM273.50 |
| Honda Civic 2.0 Type-R | 1998cc | RM379 | RM273.50 |
| Honda CR-V 1.5 | 1498cc | RM120 | RM60 |
| Honda CR-V 2.0 | 1997cc | RM438.80 | RM242.34 |
| Honda Elysion 2.4 | 2354cc | RM723.20 | RM398.76 |
| Honda Freed 1.5 | 1497cc | RM120 | RM60 |
| Honda HR-V 1.5 | 1496cc | RM100 | RM50 |
| Honda HR-V 1.8 | 1799cc | RM359.70 | RM198.83 |
| Honda Insight 1.3 | 1339cc | RM70 | RM56 |
| Honda Integra 2.0 | 1998cc | RM379 | RM273.50 |
| Honda Jazz 1.5 | 1497cc | RM90 | RM56 |
| Honda Jazz Hybrid 1.3 | 1339cc | RM70 | RM56 |
| Honda Odyssey 2.2 | 2156cc | RM564.80 | RM311.64 |
| Honda Odyssey 2.4 | 2356cc | RM724.80 | RM399.64 |
| Honda Stream 1.8 | 1799cc | RM359.70 | RM198.83 |
| Honda Stream 2.0 | 1998cc | RM378.50 | RM242.56 |
| Honda CR-Z 1.5 | 1496cc | RM90 | RM56 |

Roadtax Price for Toyota (2020)
| Car Model | Cubic-capacity | Semenanjung Malaysia | Sabah & Sarawak |
| --- | --- | --- | --- |
| Toyota 86 | 1998cc | RM379 | RM273.50 |
| Toyota Alphard 2.4 | 2362cc | RM729.60 | RM402.28 |
| Toyota Alphard 2.5 | 2493cc | RM834.40 | RM459.92 |
| Toyota Alphard 3.0 | 2995cc | RM1632 | RM898.60 |
| Toyota Alphard 3.5 | 3456 | RM2,369.60 | RM1450.20 |
| Toyota Altis 1.8 | 1798cc | RM279.20 | RM223.36 |
| Toyota Avanza 1.3 | 1298cc | RM100 | RM50 |
| Toyota Avanza 1.5 | 1496cc | RM100 | RM50 |
| Toyota Caldina 2.0 | 1998cc | RM379 | RM273.50 |
| Toyota Camry 2.0 | 1998cc | RM379 | RM273.50 |
| Toyota Camry 2.2 | 2163cc | RM543 | RM355.50 |
| Toyota Camry 2.4 | 2362cc | RM742 | RM455 |
| Toyota Camry 2.5 | 2494cc | RM874 | RM521 |
| Toyota CH-R 1.8 | 1798cc | RM359.40 | RM198.66 |
| Toyota Corolla Altis 1.8 | 1798cc | RM279.20 | RM223.36 |
| Toyota Estima 2.4 | 2393cc | RM754.40 | RM415.92 |
| Toyota Estima 3.5 | 3456cc | RM2369.60 | RM1450.20 |
| Toyota Fortuner 2.4 | 2393cc | RM754.40 | RM415.92 |
| Toyota Fortuner 2.7 | 2694cc | RM1150.40 | 633.72 |
| Toyota Harrier 2.0 | 1998cc | RM439.20 | RM242.56 |
| Toyota GR Supra | 2998cc | RM2125 | RM1022 |
| Toyota Harrier 2.3 | 2360cc | RM728 | RM401.40 |
| Toyota Harrier V6 3.0 | 2994cc | RM1630.40 | RM897.72 |
| Toyota Hiace 2.0 | 1997cc | RM438.80 | RM242.34 |
| Toyota Hiace 2.5 | 2494cc | RM835.20 | RM460.36 |
| Toyota Hiace 2.7 | 2694cc | RM1,150.40 | RM633.72 |
| Toyota Hilux 2.4 | 2393cc | RM754.40 | RM415.92 |
| Toyota Hilux 2.5 | 2494cc | RM835.20 | RM460.36 |
| Toyota Hilux 2.8 | 2755cc | RM1,248.00 | RM687.40 |
| Toyota Hilux 3.0 | 2982cc | RM1611.20 | RM887.16 |
| Toyota Innova 2.0 | 1998cc | RM439.20 | RM242.56 |
| Toyota Previa 2.4 | 2362cc | RM729.60 | RM402.28 |
| Toyota Prius 1.5 | 1497cc | RM90 | RM56 |
| Toyota Prius 1.8 | 1798cc | RM279.20 | RM223.36 |
| Toyota RAV4 2.0 | 1987cc | RM434.80 | RM240.14 |
| Toyota Rush 1.5 | 1496cc | RM100 | RM50 |
| Toyota Sienta 1.5 | 1497cc | RM100 | RM50 |
| Toyota Unser 1.8 | 1781cc | RM354.30 | RM195.77 |
| Toyota Vellfire 2.5 | 2494cc | RM835.20 | RM460.36 |
| Toyota Vios 1.5 | 1496cc | RM90 | RM56 |
| Toyota Wald 2.0 | 1998cc | RM379 | RM273.50 |
| Toyota Wish 1.8 | 1797cc | RM359.10 | RM198.49 |
| Toyota Wish 2.0 | 1998cc | RM439.20 | RM242.56 |
| Toyota Yaris 1.5 | 1496cc | RM90 | RM56 |
Roadtax Price for Mitsubishi (2020)
| Car Model | Cubic-capacity | Semenanjung Malaysia | Sabah & Sarawak |
| --- | --- | --- | --- |
| Mitsubishi Attrage 1.2 | 1193cc | RM55 | RM44 |
| Mitsubishi Airtrek 2.0 Turbo | 1997cc | RM438.80 | RM242.34 |
| Mitsubishi ASX 2.0 | 1998cc | RM439.20 | RM242.56 |
| Mitsubishi Chariot 2.4 | 2354cc | RM723.20 | RM398.76 |
| Mitsubishi Grandis 2.4 | 2378cc | RM742.40 | RM409.32 |
| Mitsubishi Lancer 2.0 | 1998cc | RM379 | RM273.50 |
| Mitsubishi Lancer Sportback 2.4 | 2360cc | RM740 | RM454 |
| Mitsubishi Mirage 1.2 | 1193cc | RM55 | RM44 |
| Mitsubishi Outlander 2.0 | 1998cc | RM439.20 | RM242.56 |
| Mitsubishi Outlander 2.4 | 2360cc | RM728.00 | RM401.40 |
| Mitsubishi Pajero IO | 1834cc | RM373.60 | RM206.48 |
| Mitsubishi Pajero L047 | 2555cc | RM928 | RM511.40 |
| Mitsubishi Pajero 2.5 | 2477cc | RM821.60 | RM452.88 |
| Mitsubishi Pajero 3.8 | 3828cc | RM2,964.80 | RM1,896.60 |
| Mitsubishi Triton 2.4 | 2442cc | RM793.60 | RM437.48 |
| Mitsubishi Triton 2.5 | 2477cc | RM821.60 | RM452.88 |
Roadtax Price for Nissan (2020)
| Car Model | Cubic-capacity | Semenanjung Malaysia | Sabah & Sarawak |
| --- | --- | --- | --- |
| Nissan 370Z Coupe 3.7 | 3696cc | RM5262 | RM1963.60 |
| Nissan 370Z Roadster 3.7 | 3696cc | RM5262 | RM1963.60 |
| Nissan Almera 1.5 | 1498cc | RM90 | RM56 |
| Nissan Cefiro | 1995cc | RM377.50 | RM272.75 |
| Nissan Elgrand 3.5 | 3498cc | RM2436.80 | RM1500.60 |
| Nissan Fairlady 3.5 | 3498cc | RM4371 | RM1696.30 |
| Nissan Frontier 2.5 4WD | 2488cc | RM830.40 | RM457.72 |
| Nissan Grand Livina 1.6 | 1598cc | RM100 | RM50 |
| Nissan Grand Livina 1.8 | 1798cc | RM359.40 | RM198.66 |
| Nissan GTR R-35 | 3799cc | RM5,725.50 | RM2102.65 |
| Nissan Latio 1.6 | 1598cc | RM90 | RM56 |
| Nissan Latio Hatcback 1.8 | 1798cc | RM279.20 | RM223.36 |
| Nissan Leaf EV | 0cc | RM20 | RM20 |
| Nissan Liberty | 1998cc | RM439.20 | RM242.56 |
| Nissan Murano 3.5 | 3498cc | RM2436.80 | RM1500.60 |
| Nissan Navara 2.5 | 2488cc | RM830.40 | RM457.72 |
| Nissan NV350 Urvan 2.5 | 2488cc | RM830.40 | RM457.72 |
| Nissan Sylphy 1.8 | 1798 | RM279.20 | RM223.36 |
| Nissan Sentra 1.6 | 1597cc | RM90 | RM56 |
| Nissan Serena 2.0 | 1997cc | RM438.80 | RM282.34 |
| Nissan Teana 2.0 | 1997cc | RM378.50 | RM273.25 |
| Nissan Teana 2.5 V6 | 2488cc | RM868.00 | RM518 |
| Nissan Vanette | 1488cc | RM120 | RM60 |
| Nissan X-Gear 1.6 | 1598cc | RM90 | RM56 |
| Nissan X-Trail 2.0 | 1997cc | RM438.80 | RM242.34 |
| Nissan X-Trail 2.5 | 2488cc | RM830.40 | RM457.72 |
Roadtax Price for Mazda (2020)
| Car Model | Cubic-capacity | Semenanjung Malaysia | Sabah & Sarawak |
| --- | --- | --- | --- |
| Mazda 2 Hatchback & Sedan 1.5 | 1496cc | RM90 | RM56 |
| Mazda 3 Hatchback & Sedan 1.5 | 1496cc | RM90 | RM56 |
| Mazda 3 Hatchback & Sedan 2.0 | 1998cc | RM379 | RM273.50 |
| Mazda 5 2.0 | 1998cc | RM439.20 | RM242.56 |
| Mazda 6 Sedan 2.0 | 1998cc | RM379 | RM273.50 |
| Mazda 6 Sedan 2.5 | 2488cc | RM868 | RM518 |
| Mazda 6 Grand Touring 2.5 | 2488cc | RM868 | RM518 |
| Mazda 8 2.3 | 2260cc | RM648.00 | RM357.40 |
| Mazda BT-50 | 2198cc | RM598.40 | RM330.12 |
| Mazda BT-50 3.2 | 3198cc | RM1956.80 | RM1140.60 |
| Mazda CX-3 2.0 | 1998cc | RM439.20 | RM242.56 |
| Mazda CX-5 2.0 | 1998cc | RM439.20 | RM242.56 |
| Mazda CX-5 2.2 | 2191cc | RM592.80 | RM327.04 |
| Mazda CX-5 2.5 | 2488cc | RM830.40 | RM457.72 |
| Mazda CX-9 2.5 | 2488cc | RM830.40 | RM457.72 |
| Mazda CX-8 2.2 | 2191cc | RM592.80 | RM327.04 |
| Mazda CX-8 2.5 | 2488cc | RM830.40 | RM457.72 |
| Mazda MX-5 | 1998cc | RM379 | RM273.50 |
| Mazda CX-30 1.8 | 1759cc | RM347.70 | RM192.03 |
| Mazda CX-30 2.0 | 1998cc | RM439.20 | RM242.56 |
| | | | |
Roadtax Price for Kia (2020)
| Car Model | Cubic-capacity | Semenanjung Malaysia | Sabah & Sarawak |
| --- | --- | --- | --- |
| Kia Cerato 1.6 | 1591cc | RM90 | RM56 |
| Kia Cerato 2.0 | 1999cc | RM379.50 | RM273.75 |
| Kia Forte 2.0 | 1998cc | RM379 | RM273.50 |
| Kia Forte Koup 2.0 | 1998cc | RM379 | RM273.50 |
| Kia Forte 1.6 | 1591cc | RM90 | RM56 |
| Kia Grand Carnival | 2199cc | RM599.20 | RM330.56 |
| Kia Optima 2.0 | 1998cc | RM379 | RM273.50 |
| Kia Picanto 1.2 | 1248cc | RM70 | RM56 |
| Kia Pregio | 2665cc | RM1,104 | RM608.20 |
| Kia Rio 1.4 | 1368cc | RM70 | RM56 |
| Kia Spectra 1.6 | 1591cc | RM90 | RM56 |
| Kia Stinger 2.0 | 1998cc | RM379 | RM273.50 |
| Kia Stinger 3.3 V6 | 3342cc | RM3,669.00 | RM1,485.70 |
| Kia Sportage 2.0 | 1995cc | RM438 | RM241.90 |
| Kia Sorento 2.2 | 2199cc | RM599.20 | RM330.56 |
| Kia Sorento 2.4 | 2398cc | RM758.40 | RM418.12 |
Roadtax Price for Naza (2020)
| Car Model | Cubic-capacity | Semenanjung Malaysia | Sabah & Sarawak |
| --- | --- | --- | --- |
| Naza Bestari | 1402cc | RM90 | RM56 |
| Naza Citra 2.0 | 1975cc | RM379 | RM273.50 |
| Naza Ria 2.5 | 2497cc | RM837.60 | RM461.68 |
| Naza Rondo | 1998cc | RM379 | RM273.50 |
| Naza Suria | 1086cc | RM55 | RM44 |
| Naza Sorento | 2359cc | RM727.20 | RM400.96 |
| Naza Sorento 2.5 | 2497cc | RM837.60 | RM461.68 |
Roadtax Price for Ford (2020)
| Car Model | Cubic-capacity | Semenanjung Malaysia | Sabah & Sarawak |
| --- | --- | --- | --- |
| Ford Econovan 1.4 | 1415cc | RM120 | RM60 |
| Ford Econovan 2.2 | 2184cc | RM587.20 | RM323.96 |
| Ford Spectron 1.8 | 1799cc | RM356.70 | RM198.83 |
| Ford Ranger 2.2 | 2198cc | RM598.40 | RM330.12 |
| Ford Ranger 2.5 | 2499cc | RM839.20 | RM462.56 |
| Ford Ranger 3.2 | 3198cc | RM1,956.80 | RM1140.60 |
| Ford Fiesta 1.4 | 1388cc | RM70 | RM50 |
| Ford Fiesta 1.6 | 1596cc | RM90 | RM60 |
| Ford Lynx 2.0 | 1991cc | RM375.50 | RM271.75 |
| Ford Ecsport 1.5 | 1498cc | RM120 | RM60 |
| Ford Focus 2.0 | 1999cc | RM379 | RM273.75 |
| Ford Ranger 2.2 | 2198cc | RM598.40 | RM330.12 |
Roadtax Price for Volkswagen (2020)
| Car Model | Cubic-capacity | Semenanjung Malaysia | Sabah & Sarawak |
| --- | --- | --- | --- |
| Volkswagen Beetle 1.2 | 1197cc | RM55 | RM44 |
| Volkswagen EOS TFSI | 1984cc | RM372 | RM270 |
| Volkswagen Golf 1.4 TSI | 1390cc | RM70 | RM56 |
| Volkswagen Golf GTI 2.0 | 2000cc | RM372 | RM270 |
| Volkswagen Golf R | 1984cc | RM372 | RM270 |
| Volkswagen Jetta 1.4 | 1390cc | RM70 | RM56 |
| Volkswagen Passat 1.8 | 1798cc | RM279.20 | RM223.36 |
| Volkswagen Passat CC 2.0 | 1984cc | RM372 | RM270 |
| Volkswagen Passat CC 3.6 R | 3597cc | RM4,816.50 | RM1,829.95 |
| Volkswagen Polo 1.2 | 1197cc | RM55 | RM44 |
| Volkswagen Polo 1.6 MPI | 1598cc | RM90 | RM72 |
| Volkswagen Scirocco 1.4 | 1390cc | RM70 | RM56 |
| Volkswagen Scirocco R | 1984cc | RM372 | RM270 |
| Volkswagen Tiguan 1.4 | 1395cc | RM100 | RM56 |
| Volkswagen Tiguan 2.0 | 1984cc | RM433.60 | RM239.48 |
| Volkswagen Touareg 3.0 | 2967cc | RM1,587.20 | RM 873.96 |
| Volkswagen Touareg 3.6 V6 | 3597cc | RM2,595.20 | RM1,619.40 |
| Volkswagen Vento 1.2TSI | 1197cc | RM55 | RM44 |
| Volkswagen Vento 1.6 | 1598cc | RM90 | RM72 |
| Volkswagen Wald 2.0 | 1984cc | RM372 | RM270 |
Roadtax Price for Suzuki (2020)
| Car Model | Cubic-capacity | Semenanjung Malaysia | Sabah & Sarawak |
| --- | --- | --- | --- |
| Suzuki APV 1.5 | 1468cc | RM90 | RM72 |
| Suzuki APV 1.6 | 1590cc | RM90 | RM72 |
| Suzuki Alto 1.0 | 996cc | RM20 | RM20 |
| Suzuki Grand Vitara 2.0 | 1995cc | RM438 | RM241.90 |
| Suzuki Jimny 1.3 | 1328cc | RM100 | RM50 |
| Suzuki Kizashi 2.4 | 2393cc | RM773 | RM470.50 |
| Suzuki SX4 1.6 | 1586cc | RM90 | RM56 |
| Suzuki S-Cross 1.6 | 1586cc | RM90 | RM56 |
| Suzuki Swift 1.4 | 1372cc | RM70 | RM56 |
| Suzuki Swift Sport 1.6 | 1586cc | RM90 | RM56 |
Roadtax Price for Hyundai (2020)
| Car Model | Cubic-capacity | Semenanjung Malaysia | Sabah & Sarawak |
| --- | --- | --- | --- |
| Hyundai Elantra 2.0 | 1999cc | RM379.50 | RM273.75 |
| Hyundai Getz 1.4 | 1399cc | RM70 | RM56 |
| Hyundai Grand Starex 2.5 | 2497cc | RM837.60 | RM461.68 |
| Hyundai Genesis 3.8 | 3778cc | RM5631 | RM2074.30 |
| Hyundai i10 1.1 | 1086cc | RM55 | RM44 |
| Hyundai i10 1.3 | 1248cc | RM70 | RM56 |
| Hyundai i30 1.8 | 1797cc | RM278.80 | RM223.04 |
| Hyundai i40 2.0 | 1999cc | RM379.50 | RM273.75 |
| Hyundai Ioniq 1.6 | 1580cc | RM90 | RM56 |
| Hyundai Matrix 1.6 | 1599cc | RM120 | RM60 |
| Hyundai Sonata 2.0 | 1999cc | RM379.50 | RM273.75 |
| Hyundai Santa Fe 2.2 | 2199cc | RM599.20 | RM330.56 |
| Hyundai Santa Fe 2.4 | 2359cc | RM727.20 | RM400.96 |
| Hyundai Tucson 1.6 | 1591cc | RM100 | RM50 |
| Hyundai Tucson 2.0 | 1999cc | RM439.60 | RM242.78 |
| Hyundai Veloster 1.6 | 1591cc | RM90 | RM56 |
Roadtax Price for Audi (2020)
| Car Model | Cubic-capacity | Semenanjung Malaysia | Sabah & Sarawak |
| --- | --- | --- | --- |
| Audi A1 1.4 | 1390cc | RM70 | RM56 |
| Audi A3 1.5 | 1395cc | RM70 | RM56 |
| Audi A4 2.0 | 1984cc | RM372 | RM270 |
| Audi A5 2.0 | 1984cc | RM372 | RM270 |
| Audi A6 3.0 | 2995cc | RM2117.50 | RM1019 |
| Audi A7 3.0 | 2995cc | RM2117.50 | RM1019 |
| Audi A8 3.0 | 2995cc | RM2117.50 | RM1019 |
| Audi Q2 1.4 | 1395cc | RM100 | RM50 |
| Audi Q3 1.4 | 1395cc | RM100 | RM50 |
| Audi Q5 2.0 | 1984cc | RM433.60 | RM239.48 |
| Audi Q7 3.0 | 2995cc | RM1,632.00 | RM898.60 |
| Audi A8 3.0 | 2995cc | RM1,632.00 | RM898.60 |
| Audi TT 2.0 | 1984cc | RM372 | RM270 |
| Audi R8 5.2 | 5204cc | RM12,048.00 | RM3,999.40 |
| Audi RS-3 2.5 | 2480cc | RM860 | RM514 |
| Audi RS-5 2.9 | 2894cc | RM1865 | RM918 |
| Audi RS-7 4.0 | 3993cc | RM6598.50 | RM2364.55 |
Roadtax Price for Lexus (2020)
| Car Model | Cubic-capacity | Semenanjung Malaysia | Sabah & Sarawak |
| --- | --- | --- | --- |
| Lexus CT 1.8 | 1798cc | RM279.20 | RM223.36 |
| Lexus ES 2.5 | 2487cc | RM867 | RM517.50 |
| Lexus GS 2.0 | 1998cc | RM379 | RM273.50 |
| Lexus GS 2.5 | 2494cc | RM874 | RM521 |
| Lexus GS 3.5 | 3456cc | RM4,182 | RM1,639.60 |
| Lexus GS F 5.0 | 4969cc | RM10,990.50 | RM3,682.15 |
| Lexus IS 2.0 | 1998ccc | RM379 | RM273.50 |
| Lexus IS 2.5 | 2494cc | RM874 | RM521 |
| Lexus LC 5.0 | 4969cc | RM10,990.50 | RM3,682.15 |
| Lexus LS 3.5 | 3445cc | RM4,132.50 | RM1,624.75 |
| Lexus LX 5.7 | 5663cc | RM5,900.80 | RM4,098.60 |
| Lexus NX 2.0 | 1998ccc | RM439.20 | RM242.56 |
| Lexus RC 3.5 | 3456cc | RM4,182 | RM1,639.60 |
| Lexus RC F 5.0 | 4969cc | RM10,990.50 | RM3,682.15 |
| Lexus RX 2.0 | 1998cc | RM439.20 | RM242.56 |
| Lexus UX 2.0 | 1987cc | RM434.80 | RM240.14 |
Roadtax Price for BMW (2020)
| Car Model | Cubic-capacity | Semenanjung Malaysia | Sabah & Sarawak |
| --- | --- | --- | --- |
| BMW 1 Series 1.5 | 1499cc | RM90 | RM56 |
| BMW 2 Series 1.5 | 1499cc | RM90 | RM56 |
| BMW 2 Series 2.0 | 1997cc | RM378.50 | RM273.25 |
| BMW 3 Series 1.5 | 1499cc | RM90 | RM56 |
| BMW 3 Series 1.6 | 1598cc | RM90 | RM56 |
| BMW 3 Series 2.0 | 1998cc | RM379 | RM273.50 |
| BMW 3 Series 3.0 | 2979cc | RM2077.50 | RM1,003 |
| BMW 4 Series 2.0 | 1999cc | RM379.50 | RM273.75 |
| BMW 4 Series 3.0 | 2979cc | RM2,077.50 | RM1,003 |
| BMW 5 Series 2.0 | 1995cc | RM377.50 | RM272.75 |
| BMW 5 Series 3.0 | 2979cc | RM2,077.50 | RM1,003 |
| BMW 6 Series 2.0 | 1998cc | RM379 | RM273.50 |
| BMW 6 Series 3.0 | 2979cc | RM2077.50 | RM1003 |
| BMW 6 Series 4.4 | 4398cc | RM8421 | RM2911.30 |
| BMW 7 Series 2.0 | 1998cc | RM379 | RM273.50 |
| BMW 7 Series 3.0 | 2998cc | RM2,125 | RM1022 |
| BMW 8 Series 4.4 | 4395cc | RM8,407.50 | RM2,907.25 |
| BMW i3s EV | 0cc | RM20 | RM20 |
| BMW i8 1.5 | 1499cc | RM90 | RM56 |
| BMW M2 3.0 | 2979cc | RM2077.50 | RM1003 |
| BMW M3 3.0 | 2979cc | RM2077.50 | RM1003 |
| BMW M4 3.0 | 2979cc | RM2077.50 | RM1003 |
| BMW M5 4.4 | 4395cc | RM8407.50 | RM2,907.25 |
| BMW M6 4.4 | 4395cc | RM8407.50 | RM2,907.25 |
| BMW X1 2.0 | 1998cc | RM439.20 | RM242.56 |
| BMW X2 2.0 | 1998cc | RM439.20 | RM242.56 |
| BMW X3 2.0 | 1998cc | RM439.20 | RM242.56 |
| BMW X4 2.0 | 1998cc | RM439.20 | RM242.56 |
| BMW X5 2.0 | 1997cc | RM438.80 | RM242.34 |
| BMW X5 3.0 | 2998cc | RM1636.80 | RM901.24 |
| BMW X6 3.0 | 2979cc | RM1,606.40 | RM884.52 |
| BMW X6 4.4 | 4395cc | RM2577 | RM3872 |
| BMW X7 3.0 | 2998cc | RM1636.80 | RM901.24 |
| BMW Z4 2.0 | 1998cc | RM379 | RM273.50 |
Roadtax Price for Mercedes-Benz (2020)
| Car Model | Cubic-capacity | Semenanjung Malaysia | Sabah & Sarawak |
| --- | --- | --- | --- |
| Mercedes-Benz A-Class 1.3 | 1332cc | RM70 | RM56 |
| Mercedes-Benz A-Class 1.6 | 1595cc | RM90 | RM56 |
| Mercedes-Benz A-Class 2.0 | 1991cc | RM375.50 | RM271.75 |
| Mercedes-Benz AMG A-Class 2.0 | 1991cc | RM375.50 | RM271.75 |
| Mercedes-Benz A-Class Sedan 1.3 | 1332cc | RM70 | RM56 |
| Mercedes-Benz AMG A-Class Sedan 2.0 | 1991cc | RM375.50 | RM271.75 |
| Mercedes-Benz B-Class 1.3 | 1332cc | RM70 | RM56 |
| Mercedes-Benz B-Class 1.6 | 1595cc | RM90 | RM56 |
| Mercedes-Benz CLA 1.6 | 1595cc | RM90 | RM56 |
| Mercedes-Benz CLA 2.0 | 1991cc | RM375.50 | RM271.75 |
| Mercedes-Benz AMG CLA 2.0 | 1991cc | RM375.50 | RM271.75 |
| Mercedes-Benz GLA 1.6 | 1595cc | RM100 | RM50 |
| Mercedes-Benz GLA 2.0 | 1991cc | RM436.40 | RM241.02 |
| Mercedes-Benz AMG GLA 2.0 | 1991cc | RM436.40 | RM241.02 |
| Mercedes-Benz C-Class 1.5 | 1497cc | RM90 | RM56 |
| Mercedes-Benz C-Class 1.6 | 1595cc | RM90 | RM56 |
| Mercedes-Benz C-Class 1.8 | 1796cc | RM278.40 | RM222.72 |
| Mercedes-Benz C-Class 2.0 | 1991cc | RM375.50 | RM271.75 |
| Mercedes-Benz C-Class 2.1 AMG | 2148cc | RM528 | RM348 |
| Mercedes-Benz C-Class 3.0 AMG | 2996cc | RM2120 | RM1020 |
| Mercedes-Benz AMG C-Class 3.0 | 2996cc | RM2120 | RM1020 |
| Mercedes-Benz AMG C-Class 4.0 | 3982cc | RM6,549 | RM2,349.70 |
| Mercedes-Benz C-Class Coupe 1.5 | 1497cc | RM90 | RM56 |
| Mercedes-Benz C-Class Coupe 1.8 | 1796cc | RM278.40 | RM222.72 |
| Mercedes-Benz C-Class Coupe 2.0 | 1991cc | RM375.50 | RM271.75 |
| Mercedes-Benz AMG C-Class Coupe 3.0 | 2996cc | RM2120 | RM1020 |
| Mercedes-Benz AMG C-Class Coupe 4.0 | 3982cc | RM6,549 | RM2,349.70 |
| Mercedes-Benz AMG C-Class Coupe 6.2 | 6208cc | RM16,566.00 | RM5,354.80 |
| Mercedes-Benz C-Class Cabriolet 2.0 | 1991cc | RM375.50 | RM271.75 |
| Mercedes-Benz GLC 2.0 | 1991cc | RM436.40 | RM241.02 |
| Mercedes-Benz AMG GLC 3.0 | 2996cc | RM1,633.60 | RM899.48 |
| Mercedes-Benz AMG GLC 4.0 | 3982cc | RM3,211.20 | RM2,081.40 |
| Mercedes-Benz GLC Coupe 2.0 | 1991cc | RM436.40 | RM241.02 |
| Mercedes-Benz AMG GLC Coupe 3.0 | 2996cc | RM1,633.60 | RM899.48 |
| Mercedes-Benz AMG GLC Coupe 4.0 | 3982cc | RM3,211.20 | RM2,081.40 |
| Mercedes-Benz E-Class 2.0 | 1991cc | RM375.50 | RM271.75 |
| Mercedes-Benz E-Class 2.1 | 2143cc | RM523.00 | RM345.50 |
| Mercedes-Benz E-Class 3.0 | 2996cc | RM2120 | RM1020 |
| Mercedes-Benz AMG E-Class 4.0 | 3982cc | RM6,549 | RM2,349.70 |
| Mercedes-Benz E-Class Coupe 2.0 | 1991cc | RM375.50 | RM271.75 |
| Mercedes-Benz E-Class Cabriolet 2.0 | 1991cc | RM375.50 | RM271.75 |
| Mercedes-Benz CLS 2.0 | 1991cc | RM375.50 | RM271.75 |
| Mercedes-Benz CLS 3.0 | 2999cc | RM2,127.50 | RM1,023.00 |
| Mercedes-Benz CLS 3.5 | 3498cc | RM4,371.00 | RM1696.30 |
| Mercedes-Benz AMG CLS 3.0 | 2999cc | RM2,127.50 | RM1,023.00 |
| Mercedes-Benz GLE 2.0 | 2999cc | RM1,638.40 | RM902.12 |
| Mercedes-Benz GLE 2.1 | 2143cc | RM554.40 | RM305.92 |
| Mercedes-Benz GLE 3.0 | 2996cc | RM1,633.60 | RM899.48 |
| Mercedes-Benz GLE 3.5 | 3498cc | RM2,436.80 | RM1,500.60 |
| Mercedes-Benz GLE Coupe 3.0 | 2996cc | RM1,633.60 | RM899.48 |
| Mercedes-Benz AMG GLE Coupe 3.0 | 2996cc | RM1,633.60 | RM899.48 |
| Mercedes-Benz R-Class | 2996cc | RM1,633.60 | RM899.48 |
| Mercedes-Benz S-Class 3.0 | 2996cc | RM2120 | RM1020 |
| Mercedes-Benz S-Class 3.5 | 3498cc | RM4,371.00 | RM1,696.30 |
| Mercedes-Benz Maybach S-Class 4.0 | 3982cc | RM6,549 | RM2,349.70 |
| Mercedes-Benz AMG S-Class Coupe 4.0 | 3982cc | RM6,549 | RM2,349.70 |
| Mercedes-Benz S-Class Cabriolet 4.0 | 3982cc | RM6,549 | RM2,349.70 |
| Mercedes-Benz SL-Class 3.5 | 3498cc | RM4371 | RM1,696.30 |
| Mercedes-Benz SLS AMG 6.2 | 6208cc | RM16,566.00 | RM5,354.80 |
| Mercedes-Benz SLS AMG Roadster | 6208cc | RM16,566.00 | RM5,354.80 |
| Mercedes-Benz GLS 3.0 | 2996cc | RM1,633.60 | RM899.48 |
| Mercedes-Benz AMG G-Class 4.0 | 3982cc | RM3,211.20 | RM2,081.40 |
| Mercedes-Benz AMG G-Class 5.5 | 5461cc | RM5,577.60 | RM3,856.20 |
| Mercedes-Benz V-Class 2.1 | 2143cc | RM554.40 | RM305.92 |
| Mercedes-Benz SLC 1.8 | 1796cc | RM278.40 | RM222.72 |
| Mercedes-Benz SLC 2.0 | 1991cc | RM375.50 | RM 271.75 |
| Mercedes-Benz SLC AMG 3.0 | 2996cc | RM2,120 | RM1,020 |
| Mercedes-Benz SLC AMG 5.5 | 5461cc | RM13,204.50 | RM4,346.35 |
| Mercedes-Benz AMG GT 4.0 | 3982cc | RM6,549 | RM2,349.70 |
| Mercedes-Benz AMG GT 4-Door 4.0 | 3982cc | RM6,549 | RM2,349.70 |

Roadtax Price for Chevrolet (2020)
| Car Model | Cubic-capacity | Semenanjung Malaysia | Sabah & Sarawak |
| --- | --- | --- | --- |
| Chevrolet Aveo | 1498cc | RM90 | RM72 |
| Chevrolet Captiva 2.0 | 1956cc | RM422.40 | RM233.32 |
| Chevrolet Captiva 2.4 | 2384cc | RM747.20 | RM411.96 |
| Chevrolet Colorado 2.5 | 2499cc | RM839.20 | RM462.56 |
| Chevrolet Colorado 2.8 | 2776cc | RM1,281.60 | RM705.88 |
| Chevrolet Cruze 1.8 | 1796cc | RM278.40 | RM222.72 |
| Chevrolet Malibu 2.4 | 2384cc | RM764 | RM466 |
| Chevrolet Orlando 1.8 | 1796cc | RM358.80 | RM198.32 |
| Chevrolet Sonic 1.4 | 1398cc | RM70 | RM56 |
| Chevrolet Sonic Sedan 1.4 | 1398cc | RM70 | RM56 |
Roadtax Price for Peugeot (2020)
| Car Model | Cubic-capacity | Semenanjung Malaysia | Sabah & Sarawak |
| --- | --- | --- | --- |
| Peugeot 208 1.2 | 1199cc | RM55.00 | RM44.00 |
| Peugeot 208 1.6 | 1598cc | RM90 | RM56 |
| Peugeot 208 GTi 1.6 | 1598cc | RM90 | RM56 |
| Peugeot 308 1.6 | 1598cc | RM90 | RM56 |
| Peugeot 408 1.6 | 1598cc | RM90 | RM56 |
| Peugeot 408 2.0 | 1997cc | RM378.50 | RM273.25 |
| Peugeot 508 1.6 | 1598cc | RM90 | RM56 |
| Peugeot 508 2.2 | 2197cc | RM559 | RM363.50 |
| Peugeot 508 SW 1.6 | 1598cc | RM90 | RM56 |
| Peugeot 508 SW 2.2 | 2197cc | RM559 | RM363.50 |
| Peugeot 2008 1.2 | 1199cc | RM85 | RM42.50 |
| Peugeot 2008 1.6 | 1598cc | RM120 | RM50 |
| Peugeot 3008 1.6 | 1598cc | RM120 | RM50 |
| Peugeot 5008 1.6 | 1598cc | RM120 | RM50 |
| Peugeot RCZ 1.6 | 1598cc | RM90 | RM56 |
Roadtax Price for Volvo (2020)
| Car Model | Cubic-capacity | Semenanjung Malaysia | Sabah & Sarawak |
| --- | --- | --- | --- |
| Volvo S60 1.6 | 1596cc | RM90 | RM56 |
| Volvo S60 2.0 | 1969cc | RM364.50 | RM266.25 |
| Volvo S80 2.0 | 1999cc | RM379.50 | RM273.75 |
| Volvo S90 2.0 | 1969cc | RM364.50 | RM266.25 |
| Volvo V40 1.6 | 1596cc | RM90 | RM56 |
| Volvo V40 2.0 | 1969cc | RM364.50 | RM266.25 |
| Volvo V60 1.6 | 1596cc | RM90 | RM56 |
| Volvo V60 2.0 | 1999cc | RM379.50 | RM273.75 |
| Volvo V90 2.0 | 1969cc | RM364.50 | RM266.25 |
| Volvo XC40 2.0 | 1969cc | RM427.60 | RM236.18 |
| Volvo XC60 2.0 | 1969cc | RM427.60 | RM236.18 |
| Volvo XC90 2.0 | 1969cc | RM427.60 | RM236.18 |
Roadtax Price for Subaru (2020)
| Car Model | Cubic-capacity | Semenanjung Malaysia | Sabah & Sarawak |
| --- | --- | --- | --- |
| Subaru BRZ 2.0 | 1998cc | RM379 | RM273.50 |
| Subaru Forester 2.0 | 1995cc | RM438 | RM241.90 |
| Subaru Legacy Sedan 2.5 | 2457cc | RM837 | RM502.50 |
| Subaru Legacy Wagon 2.5 | 2457cc | RM837 | RM502.50 |
| Subaru Outback 2.5 | 2498cc | RM878 | RM523 |
| Subaru WRX 2.0 | 1998cc | RM379 | RM273.50 |
| Subaru WRX 2.5 | 2457cc | RM837 | RM502.50 |
| Subaru XV 2.0 | 1995cc | RM438 | RM241.90 |
Roadtax Price for Isuzu (2020)
| Car Model | Cubic-capacity | Semenanjung Malaysia | Sabah & Sarawak |
| --- | --- | --- | --- |
| Isuzu D-Max 1.9 | 1898cc | RM399.20 | RM220.56 |
| Isuzu D-Max 2.5 | 2499cc | RM839.20 | RM462.56 |
| Isuzu D-Max 3.0 | 2999cc | RM1,638.40 | RM902.12 |
| Isuzu Mu-X 2.5 | 2499cc | RM839.20 | RM462.56 |
Roadtax Price for MINI (2020)
| Car Model | Cubic-capacity | Semenanjung Malaysia | Sabah & Sarawak |
| --- | --- | --- | --- |
| MINI 3 Door 1.5 | 1499cc | RM90 | RM56 |
| MINI 3 Door 2.0 | 1998cc | RM379 | RM273.50 |
| MINI 5 Door 1.5 | 1499cc | RM90 | RM56 |
| MINI 5 Door 2.0 | 1998cc | RM379 | RM273.50 |
| MINI Clubman 1.5 | 1499cc | RM90 | RM56 |
| MINI Clubman 1.6 | 1598cc | RM90 | RM56 |
| MINI Clubman 2.0 | 1998cc | RM379 | RM273.50 |
| MINI Countryman 1.5 | 1499cc | RM100 | RM50 |
| MINI Countryman 1.6 | 1598cc | RM100 | RM50 |
| MINI Countryman 2.0 | 1998cc | RM439.20 | RM242.56 |
| MINI Coupe 1.6 | 1598cc | RM90 | RM56 |
| MINI Paceman 1.6 | 1598cc | RM100 | RM50 |
---