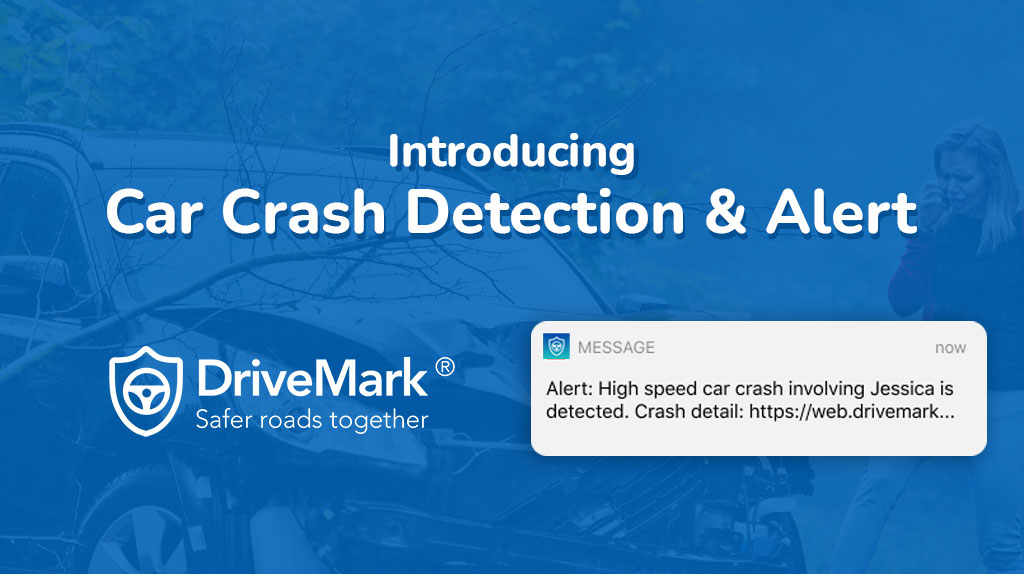 When DriveMark was launched back in 2017, it carried our aspiration to make the roads safer for everyone. From then on, we introduced several features to encourage drivers to be safer, reduce severe traffic accidents and most importantly reduce fatalities on the road. Today, we are proud to announce the release of a new feature that is by far, the most impactful in DriveMark history – the High-Speed, High-Impact Accident Detection and Emergency Alert feature.
🚑 This feature allows DriveMark to detect high-impact (severe) car crashes that happen during high-speed driving, and then notifies your emergency contacts.
Note: High Speed Accident Detection feature is available for iOS devices at the moment. Please upgrade to the latest DriveMark v2.7 version to enjoy this feature.
For Android users, we are fine-tuning the algorithm to cater for a wide variety of devices in the market. This is taking some time, but rest assured the progress is on track.
What is DriveMark Car Crash Detection and Alert?
In the past few years, DriveMark has collected over 15 million trips from drivers all over the world. The value of the data collected is immense as it helped us to develop an algorithm to identify and detect possible high speed car crashes.
With the help of sensors available on modern smartphones, sprinkled with the DriveMark Impact algorithm, it is now possible to associate certain combination of data profile to be representative of a crash or an accident.
In simple terms, DriveMark can now actively monitor and look for potential road accidents. Once an accident is detected, a notification will be sent to your emergency contact.
Long-time users like yourself are key to making this happen. All the drives that you have made while using DriveMark helped us tremendously in engineering this crash detection feature. 15 million trips that include all the safe and unsafe ones, the ones during the wet & slippery monsoon seasons, the low speed ones, the high speed ones, and some of which did end with accidents — all these provide invaluable data for study.
Thank you DriveMark Heroes! 🚀
Why should I enable this Accident Detection feature?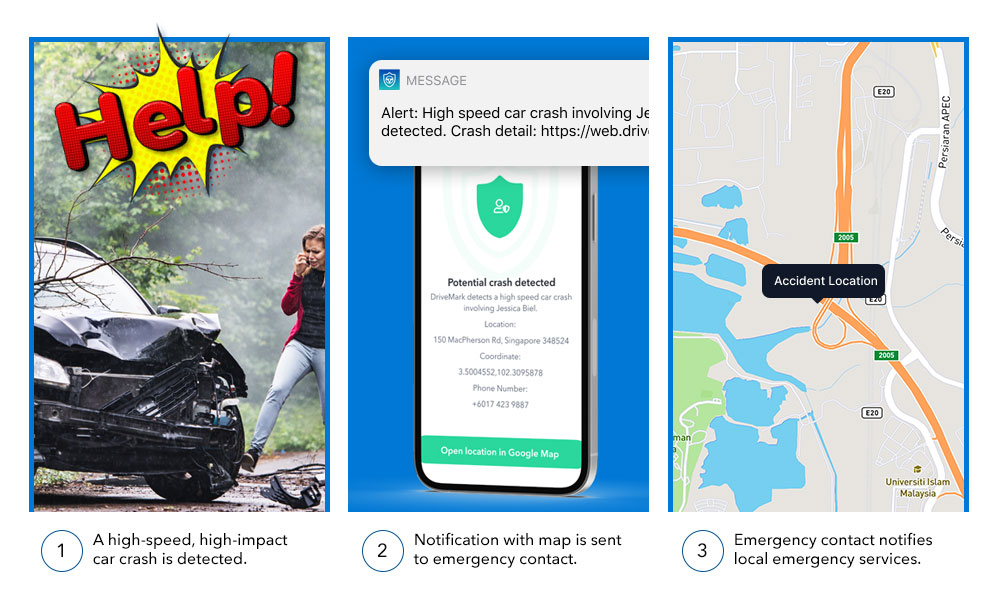 Imagine a car crash scenario where the driver is unconscious, or in an area that is not immediately recognisable, or you are not able to contact anyone because the phone screen is broken. Having access to the exact location of the accident helps your emergency contact tremendously, allowing them to communicate effectively with emergency response team.
When enabled, DriveMark will actively monitors your driving, looking for tell-tale signs of sudden, high-G impact that resembles a car crash.
When such an impact is detected, DriveMark sends a notification via SMS and Email to your emergency contact.
The emergency contact will receive a web link that displays:
Location and time of the accident
Name and contact number of the person
Link to view the accident location on Google Map
The contact then can liaise with local emergency services to provide assistance. In severe car crashes, every minute matters. By having the exact location of the crash, we hope this would help save countless lives globally.
How do I enable Car Crash Detection in DriveMark?
Enabling this potentially life-saving feature is simple. In DriveMark version 2.7, we have added a new menu specifically for Safety.
Step 1: Just navigate to the menu and Enable the toggle.
Step 2: Submit the information for your emergency contact.
Step 3: Submit
Step 4: Notify your emergency contact to accept the Consent request through a link sent by DriveMark to their SMS/Message and Email.
Is there anything important that I should be aware of?
Yes, there are a few. As this feature reliant heavily on smartphone sensors, it is not as accurate as a mechanical sensor installed onto cars (for example when compared to an airbag sensor – ABS).
For the Accident Detection & Alert to work, several conditions below must be followed:
The phone has access to mobile network, including internet connectivity. Without mobile network and internet connectivity, notification can not be sent.
All DriveMark checklist items in Profile > Profile Menu > App Diagnostic are Passed.
DriveMark is running normally. If your trip scoring runs, it means DriveMark is functioning normally.
Your emergency contact must accept the consent request to add him as an emergency contact
Does DriveMark detect all kind of accidents?
No, DriveMark is only able to detect very specific kind of accidents.
DriveMark is most accurate at detecting high speed, high-impact crashes (accidents that happen above 60km/h where the vehicle comes to an abrupt stop after the contact).
In effort to reduce false positives, it will NOT trigger a crash alert for accidents below:
The vehicle is stationery when hit by another vehicle
Upon high speed contact, the vehicle does not come to a complete stop.
Refer to this table for summary of DriveMark's high-speed, high-impact car crash detection feature: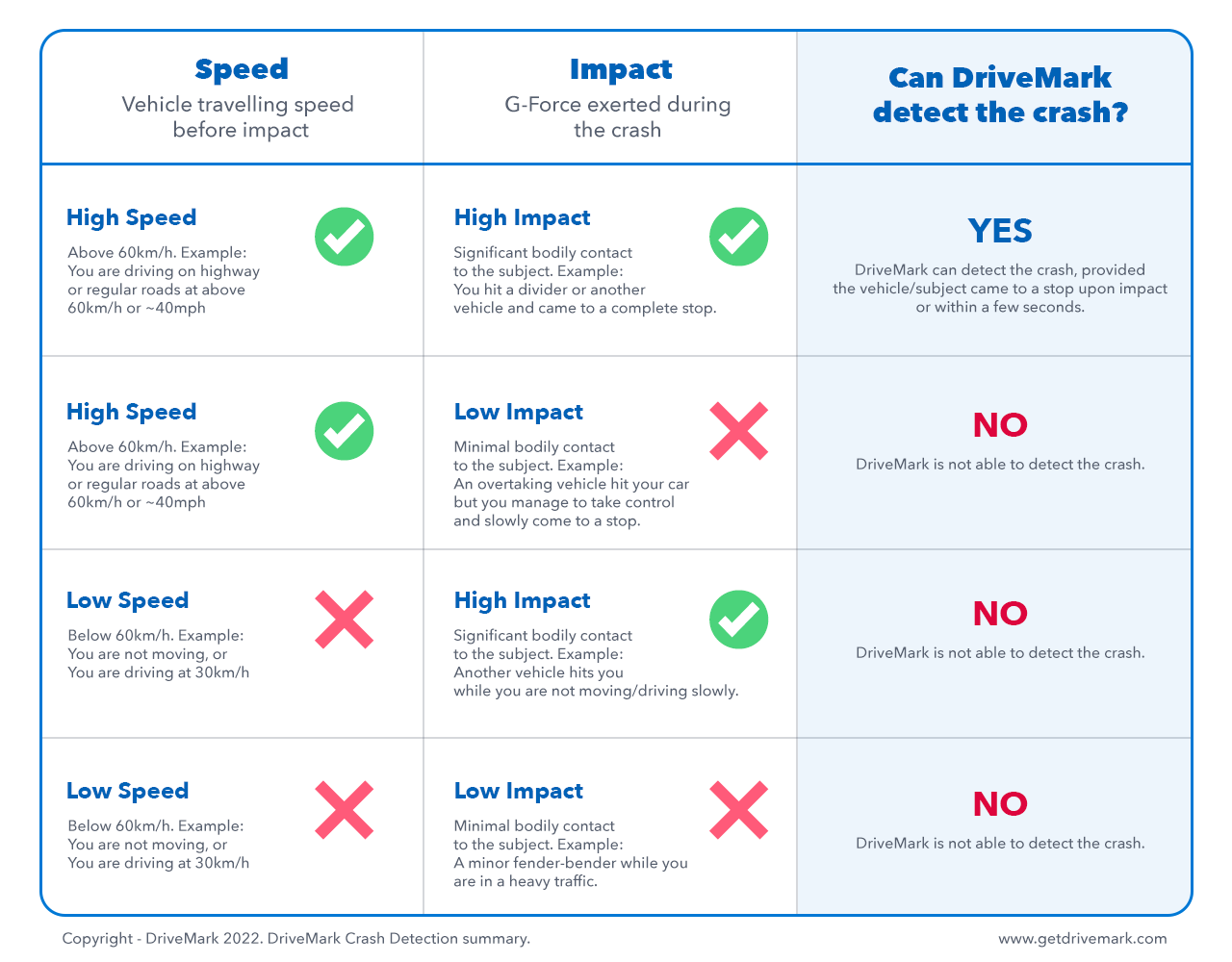 Providing automatic Car Crash Detection & Alert to millions of drivers worldwide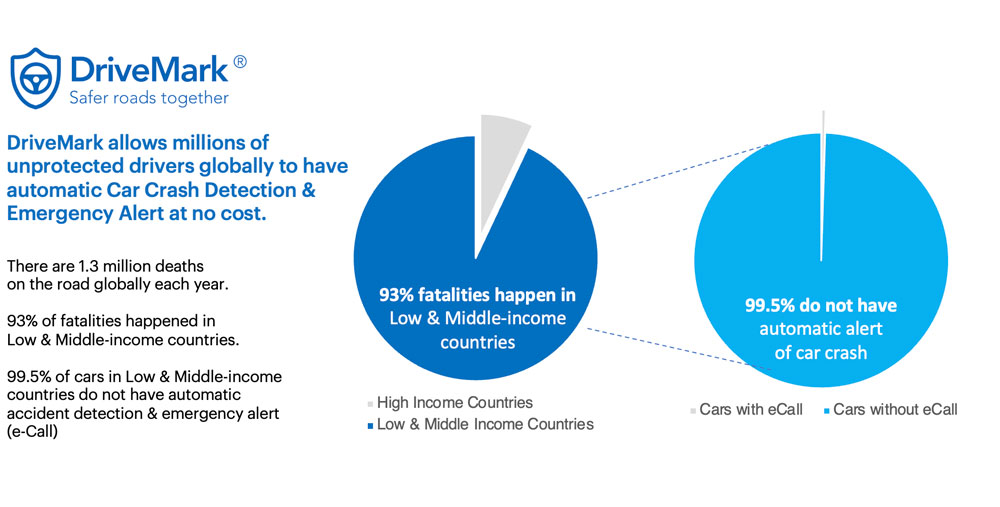 There are a few reasons why DriveMark develops this feature.
Firstly, lets take a look at global road safety statistics:
Globally around 1.3 million people die every year as a result of road traffic crashes.
A whopping 93% of the world's road fatalities occur in low- and middle-income countries, even though these countries have roughly 60% of the world's vehicles.
Modern cars have ability to detect car accidents and notify emergency service upon impact. This system is called eCall.
However for low- and middle-income countries, over 99.5% of all cars on the road are NOT equipped with the hardware necessary for this intelligent crash detection. 😱
❤️ DriveMark allows anyone with a smartphone to have this life-saving feature at no cost.
That means we are enabling millions of drivers in the world to have a digital assistant that automatically & continuously monitor their driving and, in the worst-case scenario, notify your emergency contact when a high-speed impact is detected.
Secondly, when we dive deeper into speeding statistics in relation to fatalities, we will discover that:
Higher speeds mean more severe injuries when crashes occur

At 65km/h (40mph), a driver has a 15% risk of series or fatal injury
At 80km/h (50mph), the risk is 59%. That is a 45% jump!
At 88km/h (55mph), the risk is 78%

At 80km/h (50mph) or higher, drivers are also at high risk (52-67%) of facial fracture and severe brain injury
Speeding was documented in almost 1/3 of all fatal traffic crashes in 2005.
❤️ DriveMark high-speed, high-impact Accident Detection feature is designed specifically to detect high risk crashes that lead to severe or fatal injuries.
Frequently-Asked Questions
We recommend you to read through this list of 👉🏼 Frequently-Asked Questions for better understanding on the limitations and engineering parameters of DriveMark. Some of the questions include:
What is Crash Detection
What type of road crashes can DriveMark detect?
Do I have to enable GPS for this feature to work?
Does the feature work in Flight Mode/Battery saving mode?
Does this drain my phone battery significant?
What happens after a crash is detected?
I ride motorcycles. Can DriveMark detect motorcycle crashes?
I had an accident, but no crash notification was received
---