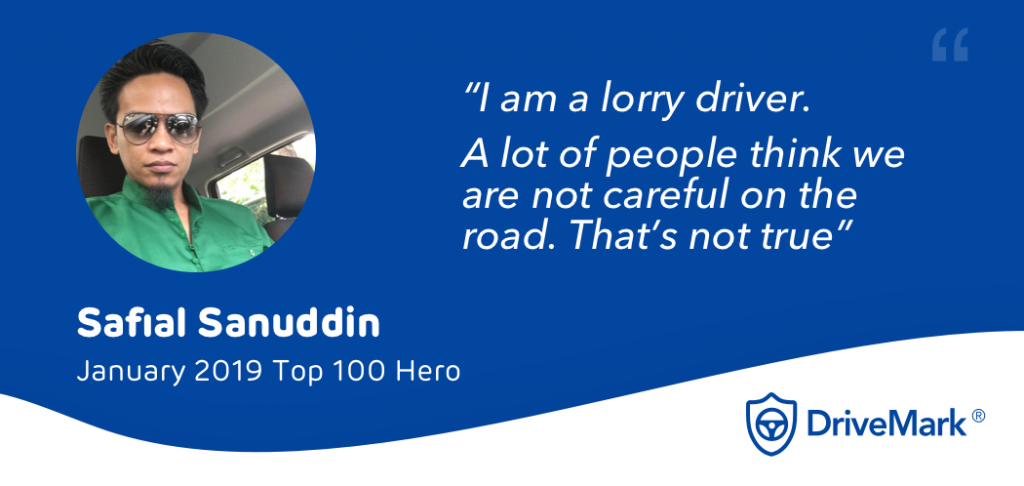 Safial Sanuddin
What does it take to be a super hero?
Must you have lazer beam eyes? Xray vision? More terer, have all the visions of present, future and past? For us, a super hero is one who is always pay attention and keep their eyes peeled when driving!
Thousands of people have joined our #DriveSaferLah challenges. If you are part of this community, then you are already our hero. 🎉 If you haven't joined, come la see our latest #DriveSaferLah challenge. Best wor.
Each month, we have ah-may-zing human beings who have driven extra safe and won our challenges.This special post is dedicated to highlight our November runner-up top driver, whose responsibility and vigilance on the road are his super powers. This is his story:
"Hi, my name is Safial Sanuddin and I am a lorry driver. A lot of people think we are not careful on the road. That's not true! I am always considerate and careful when driving. Safety always comes first to me. When I got to know DriveMark rewards safe drivers, I immediately thought I will win lah! It's challenging also, because there are a lot of reckless road users. They run through red lights, drive too close to me, and not turning on lights in the rain. Sometimes I got surprised by these so I have to brake harshly, and sadly my DriveMark scores are affected too. But all in all, this app reminds me to always be attentive."
---