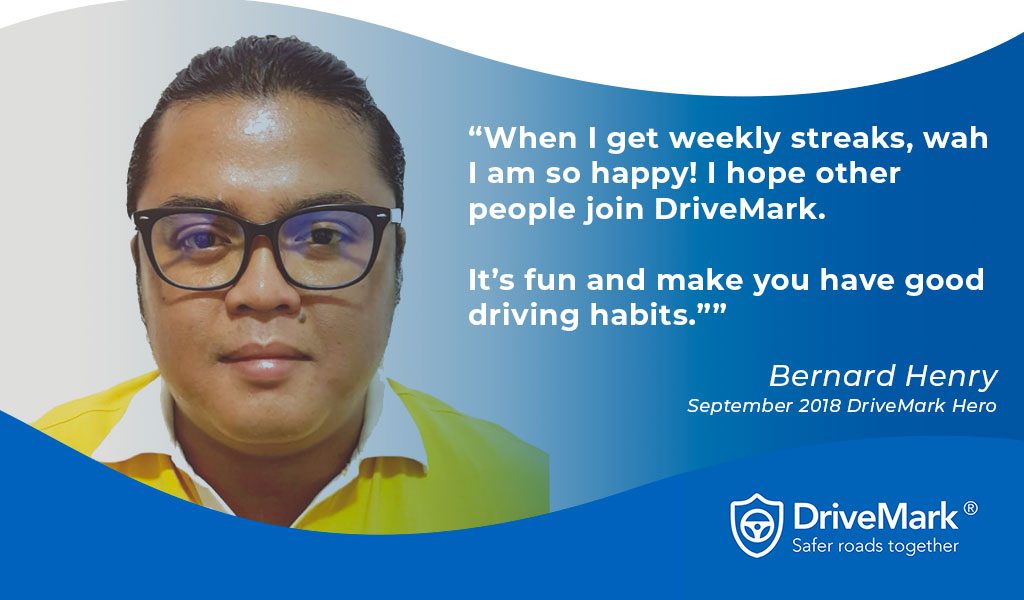 Bernard Henry
What does it take to be a super hero? 
Does a super hero must be a vigilan-teh who wears all black, has a loyal butler and want to be above law? Must he has a tech company, a billionaire, and don't listen to the authority? Cos f—ren the police amirite? #hewhew
Thousands of people have joined our #DriveSaferLah challenges. If you are part of this community, then you are already our hero. 🎉 If you haven't joined, come la see our latest #DriveSaferLah challenge. Best wor.
Each month, we have ah-may-zing human beings who have driven extra safe and won our challenges.This special post is dedicated to highlight our September top driver, whose responsibility and vigilance on the road are his super powers. This is his story:
"Hey, I'm Bernard Henry. As most Malaysians, I consider myself to be pretty OK. I follow road rules when driving with the occasional speeding. When I first tried using DriveMark, quite challenging lah. Especially when I TER-speeding when I want to overtake. But, I make safe driving a habit to maintain my score. When I get weekly streaks, wah I am so happy! I hope other people join DriveMark. It's fun and make you have good driving habits."
---