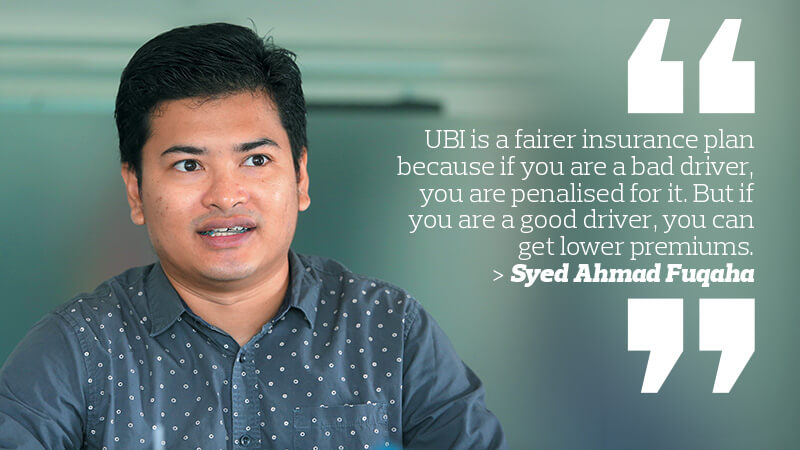 The second phase of the liberalisation of motor insurance, which kicked off on July 1, has seen the introduction of usage-based insurance (UBI) in the Malaysian market. The product allows premiums to be determined by the policyholders' driving behaviour, usually with the use of a telematics device.
According to the US National Association of Insurance Commissioners, UBI allows insurers to price premiums more accurately and encourages drivers to adopt good driving behaviour. There has been a greater adoption of such products with the advancements in technology.
UBI, especially telematics insurance, is already available in other parts of the world, including Italy and the UK. In July, at least two insurers in Malaysia launched UBI products aimed at the private-vehicle market.
AXA Affin General Insurance Bhd launched AXA FlexiDrive, a telematics-based motor insurance plan, while Internet of Things service provider Atilze Digital Sdn Bhd partnered U Mobile to provide connectivity to its Connected Car devices, which can collect data on driving behaviour. According to news reports, Atilze is looking to collaborate with insurance companies to offer UBI products.
On Sept 5, Katsana — a brand owned by data company Pixelated Sdn Bhd — signed a memorandum of understanding with Allianz Malaysia Bhd, Etiqa Insurance Bhd, Etiqa Takaful Bhd and Axiata Business Services Sdn Bhd to launch UBI products that will allow driving patterns to be tracked with the use of a mobile phone. This new form of UBI does not require the installation of a device in the vehicle.
"The previous tariff environment does not penalise bad drivers enough. If I were a bad driver, I would not really care if I got into an accident because I know I would pay the same fee. But this does not make sense for good drivers because this small pool of bad drivers are causing them to pay slightly higher premiums. That is why UBI has come into the market, so good drivers can pay what they deserve to," says Katsana co-founder and managing director Syed Ahmad Fuqaha Syed Agil.
The solution will be based on Katsana's free app called Drivemark, which tracks a user's driving patterns such as the distance travelled, frequency of harsh acceleration, braking, cornering and how often they speed. The data will be compiled into a score that users can present to the insurer to get a better quotation if they want to. Otherwise, the data will remain with the user.
"Customers must understand that the way they drive has consequences. The data that they have on Drivemark gives them a picture of how they drive. The beauty of this data is that it remains with the consumer and is not owned by the insurance company," says Allianz CEO Zakri Mohd Khir.
Syed Ahmad Fuqaha says the company decided to use a mobile phone to track driving behaviour instead of a telematics device to save on installation and maintenance costs. Through his study of the application abroad, these devices also encounter connectivity problems.
"We are a lot more scalable because we use the sensors in your phone to detect how well you are driving on the road. And this is sufficient enough to have a good understanding of who you are as a driver. We will be deploying the app through Axiata, which has 320 million subscribers across Asia," he says.
Drivemark utilises the mobile phone's gyroscope and global positioning system to collect data and engages with users using rewards. Syed Ahmad Fuqaha admits that mobile phones may not be as accurate as actual tracking devices because they may pick up data when someone is sitting in an Uber or taxi as well. So, it has to collect more data than a telematics device to get a better fingerprint of the user.
"Some studies show that the mobile phone has roughly 92% precision as the hardware. We have both hardware (from its fleet management business) and the phone. We see the phone as a way to onboard users and educate them. Once they are accustomed to being tracked, they can invest in the hardware," says Syed Ahmad Fuqaha.
Katsana started in 2014 with a vehicle-tracking system that has successfully recovered more than 98% of stolen cars. Then the brand launched an advanced fleet management system that helps clients track their vehicles and driver behaviour.
By the following year, it began scoring individual drivers with the use of the Drivemark app and presenting a summary of their driving patterns. That was when Syed Ahmad Fuqaha started discussions with insurers to work out a collaboration with them.
Targeting young drivers
UBI can be beneficial to those in higher-risk groups such as young drivers, who tend to be charged higher premiums because they are more likely to make claims.
"Our target market is young drivers, simply because there are many good young drivers around. It is just that there is a small group of really bad drivers who are costing the good drivers higher premiums. UBI is a fairer insurance plan because if you are a bad driver, you are penalised for it. But if you are a good driver, you can get lower premiums," says Syed Ahmad Fuqaha.
According to a 2015 Deloitte report, in the UK, the average car insurance premium for 17-year-olds was more than three times the average for all policyholders. As a result, motor insurance customers between 18 and 24 years old were 1.7 times more likely to have UBI.
"For example, if you are a 24-year-old driving a Myvi, your insurance premium may be double. That is what we are seeing in the UK and the US. People in this age group are more likely to make claims," says Syed Ahmad Fuqaha.
UBI has the potential to encourage better driving habits, not just because of the potentially lower premiums but also the social element. Since many UBI products are linked to apps, they provide users the opportunity to engage with their peers and insurers.
For example, Syed Ahmad Fuqaha plans to create groups within Drivemark to allow users to keep tab of their family and friends. He says this is particularly useful in reducing claims among young drivers.
According to an October 2012 report by Insurance Services Malaysia Bhd, individuals between 17 and 25 years old have the highest probability of intimating a claim — especially Own Damage claims — compared with claims for theft, property damage and other acts.
"What if you could reduce the Own Damage claims? For insurers, this is not just about capturing more data on a particular user or cohort but encouraging the user to be slightly more careful when driving. We don't know yet how effective it will be, but we hope that with the social element, we can see the difference between those who participate and those who do not," says Syed Ahmad Fuqaha.
A Swiss RE report notes that in Italy, the frequency of claims has been reduced by about 20% with more people installing telematics devices in their vehicles.
Lowering premiums for good drivers
After July 1, insurers in Malaysia can consider more risk factors such as safety and security features of the vehicle, geographical location and traffic offences on record to set premium prices. Insurers and takaful operators can define their own risk profile groups.
Article from: The Edge Markets
---