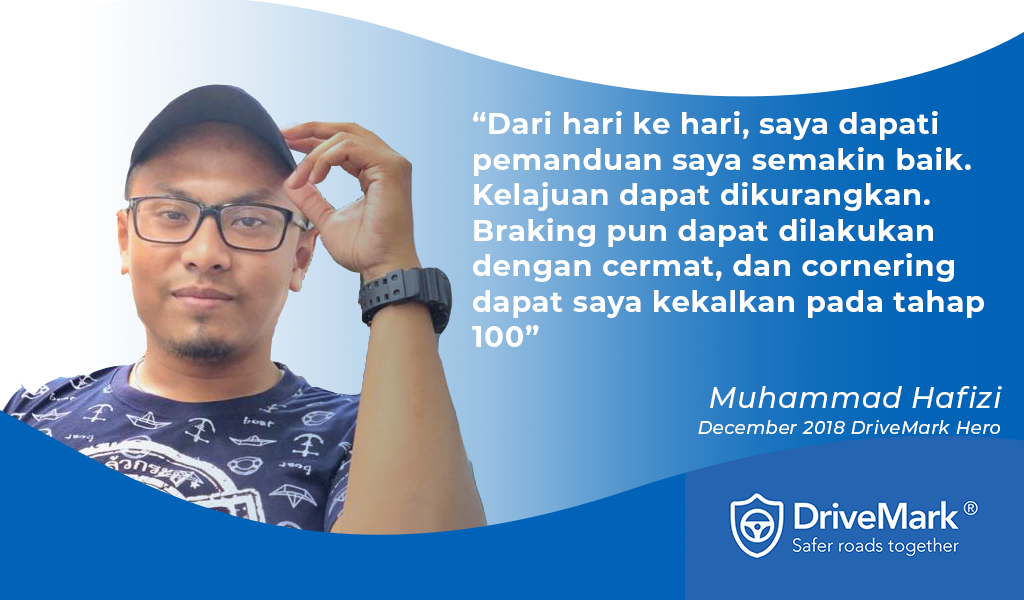 Muhammad Hafizi
What does it take to be a super hero?
Should a hero self sacrifice so that Thanos won't get the infinity stone? OK, we love selfless hero but we love a hero who appreciate the lives of others as much as their own! You safe, others safe. Win-win for everibodi la hor?
Thousands of people have joined our #DriveSaferLah challenges. If you are part of this community, then you are already our hero. 🎉 If you haven't joined, come la see our latest #DriveSaferLah challenge. Best wor.
Each month, we have ah-may-zing human beings who have driven extra safe and won our challenges.This special post is dedicated to highlight our December top driver, whose his selflessness makes everybody on the road selamat sejahtera. This is his story:
" Hai, nama saya Muhammad Hafizi dari Alor Setar, Kedah. Saya dapat tahu dari kenalan saya berkenaan app DriveMark nih. Mereka mengesyorkan saya guna app ni semasa memandu. Memandangkan saya memandu jarak jauh daripada Hatyai (Thailand) ke Beach Road (Singapore), saya dengan rela hati menggunakannya tanpa mengetahui ada rewards disebalik pemanduan saya.
Pada mulanya saya hanya check 2 hari sekali, tetapi selepas mengetahui bahawa apps ini bukan hanya sekadar apps biasa, saya sering check app ini utk tahu adakah tahap pemanduan saya ini baik atau sebaliknya. Dari hari ke hari, saya dapati pemanduan saya semakin baik. Kelajuan dapat dikurangkan. Braking pun dapat dilakukan dengan cermat, dan cornering dapat saya kekalkan pada tahap 100.
Memang ada perubahan yang ketara dalam pemanduan saya. Dengan app ni, saya dapat mengekalkan tahap pemanduan yg lebih baik. Kerana itulah matlamat saya; utk membawa penumpang selamat sampai ke destinasi yg dituju dengan lebih selamat dan selesa.
Saya tak berniat nak menang semata-mata. Cuma nak baiki pemanduan dengan lebih cermat. Dengan menggunakan applikasi nih dapat kita maintain pemanduan berhemah. Memandu lah dengan cara yg lebih selamat , ingatlah org yg tersayang selalu."
---